Click arrow on video link below

Your Octable Beach Table is 100% manufactured here in the USA.
It is structurally designed to last many years. Table is made of ABS plastic, measures 20" x 15" all 4 cups are polypropylene 060 thickness stadium style. The table is designed to hold all your beach necessities, it accommodates 2 cell phones on top with additional tray underneath featuring a finger slot for easy access to keep phones out of the sun, will also fit small book or electronic reading device.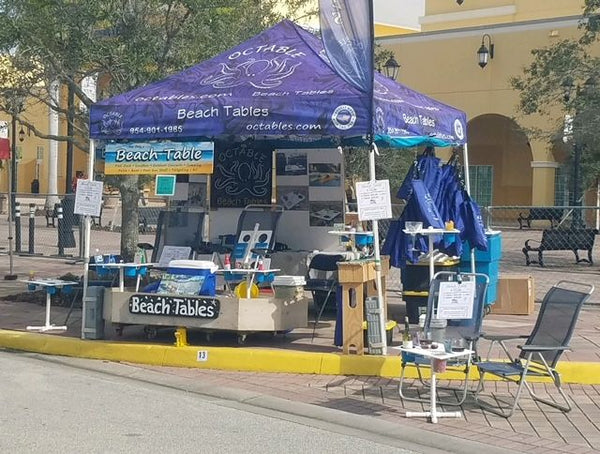 2023 Festivals we will be at:
Sept 29- Oct-1 Neptune Festival Virginia Beach, VA
Oct 7 - OFF
Oct 13-15 Alabama Shrimp Festival, AL
Oct 20-22 Sun Fiesta Venice- Centennial Park
Oct 27-29 Naples Stone Crab- Tin City
Nov 4 - OFF
Nov 10-13 Siesta Key Sand Sculpting Comp.
Nov 16-19 Treasure Island Sand Sculpting Comp.
Nov 25 -OFF
Dec 2-3 Cocoa Village, Cocoa Beach
Dec 9-10
Dec 16-17